Teen And Police Service Academy's (TAPS Academy) mission is to reduce the social distance between at-risk youth and law enforcement. This is accomplished through learning, interaction, and discussion between at-risk youth and the law enforcement personnel who serve their communities. Through this program, the two groups gain valuable insight about each other and the issues they face on a daily basis.
During the 11-week curriculum, TAPS covers specific topic areas associated with Children and Youth Safety (COPS-CPD-2011-3) such as violence, physical and sexual abuse, stalking, domestic trafficking, sexual exploitation and bullying. The Academy also covers law enforcement-related subject areas that are important to youth. Subject matter experts guide the youth and police officers through these topics weekly. TAPS Academy is designed to help youth: change behavior, learn responsible decision making, participate in crime prevention projects and reduce the social distance between themselves and law enforcement.
TAPS Academy builds upon the groundwork established by community policing programs such as D.A.R.E., and moves to the next phase of engaging the group least likely to participate: at-risk youth. The curriculum places these teens and law enforcement personnel on equal footing and creates an environment that encourages sharing and problem solving.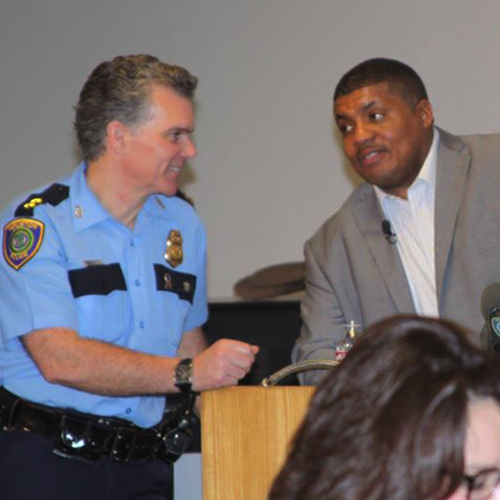 Ensuring great, dependable mentors is a key part of TAPS Academy. Police mentors stay fully involved and committed for the entire 11 weeks. They go through special workshops and training to become part of the program. TAPS Academy ensures that the diversity of mentors represents the diversity in communities in regards to race, gender and work experiences.
These selected mentor officers desire to create a better life for at-risk teens by helping the students learn better ways to deal with issues they will inevitably encounter.
Dr. Everette Penn, a Professor of Criminology at University of Houston-Clear Lake, has researched the social distance between youth and law enforcement throughout his career. This led to the development of TAPS Academy through a COPS, U.S. Department of Justice grant in the fall of 2011. TAPS Academy's first program was launched in January 2012 in Houston.
TAPS Academy is certified by the Texas Education Agency (TEA) to grant one academic credit to high school students in Texas.
In December of 2016 the TAPS Center opened in Houston, Texas. Its vision is to be the internationally leader, reducing the social distance between youth and law enforcement through research, training, teaching and programming.
TAPS Academy teens showed improvement in the following areas:
Respect for Law Enfrocement
Feeling Connected to Law Enforcement
An average 31.75% increase in law enforcement perception!
Youth not in TAPS Academy demonstrated NO change in their thoughts toward law enforcement during the same time period.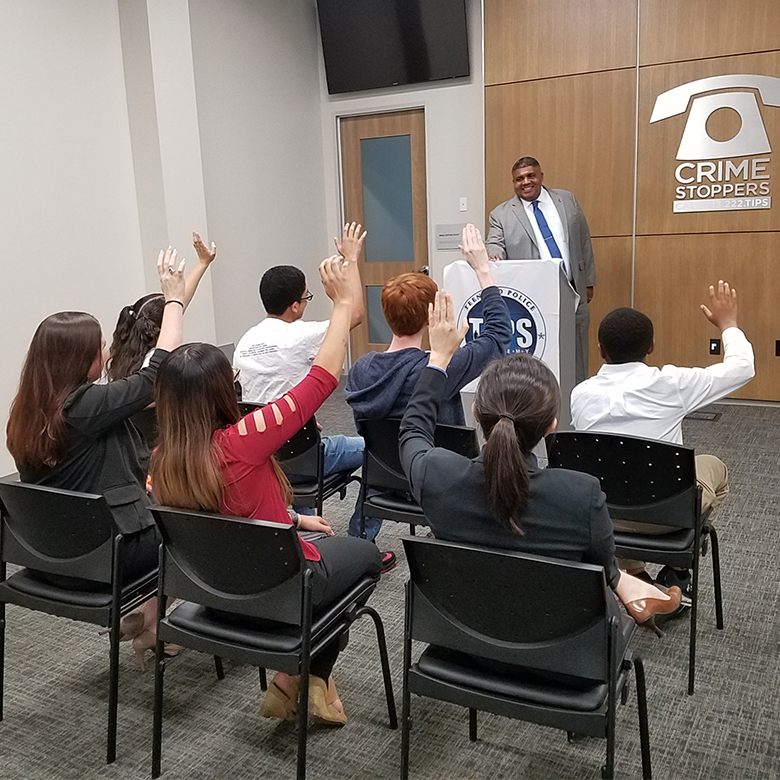 OUR LOCATIONS
Find a Location Near You
---
TAPS Academy provides a school-based curriculum that brings law enforcement, community services and youth together through an 11-week program in locations around the world. Students also earn one high school credit!
Houston, Texas • Galveston, Texas • La Marque, Texas

El Paso, Texas • Tampa, Florida • Miami, Florida

Columbus, Ohio • Chicago, Illinois • Richmond, Virginia

New York City • Ponce, Puerto Rico • St. Kitts • Barbados


TAPS CURRICULUM AND SCHEDULE
The TAPS 11-Week Program
---
This information is for our TAPS Academy staff to utilize for their local courses. The materials provided here are property of TAPS Academy and are not to be reproduced or distributed without consent of TAPS Academy.
Introduction and Pre-Assessment
Introductions are made along with innovative "ice-breaking activities", then students and officers are independently pre-tested by the evaluator about their social distance feelings towards each other. Officer mentors and students meet for the first time.
20-Year Plan and Conflict Resolution
Conflict is at the root of most crimes. Whether it is someone "stepping to you", looking at you in a wrong manner or wanting to fight, youth must be armed with an understanding as to why conflict occurs and how to respond. Students discuss their neighborhoods, conflict situations and their reputations. Students think about the future and where they want to be in 5, 10, 15 and 20 years. (Confirm sizes needed for T-shirts).
Going to school is the job of our students. They need school in order to reach their goals for the future. Our students learn truancy is an offense that has consequences.
Students and Officer mentors focus on team building and the understanding that working together is a way to reduce conflict and avoid violence. The students work together to accomplish hands-on challenges to actively learn the importance of team building (Discuss Graduation speaker(s), and try to find a sponsor for graduation this week).
Students and their Officer mentors discuss laws related to use and possession of drugs, the severe penalties associated with use and possession and the effective strategies to avoid involvement in this criminal behavior.