ACADEMICS
Knowledge Through Research & Teaching
---
The university is a space to expand knowledge through research and teaching. TAPS Academy was founded through a partnership with the Houston Police Department and the University of Houston- Clear Lake, where Dr. Penn served as Department Chair of Social and Cultural Sciences. Today TAPS Academy enjoys affiliations with several universities through lectures, and research partnerships. From New Castle University in Australia to the London School of Economic, to Franklin University in Ohio to Southern University in New Orleans our network of academics applying theory to practice expands.
At University of Houston-Clear Lake an undergraduate course titled Youth, Law and Society is offered as well as the only minor in Youth and Policing.
TAPS believes the study of youth and their intersection with policing goes beyond the traditional Juvenile Delinquency or Juvenile Justice course but should evolve into a sub-discipline of Youth and Policing through the development of a major.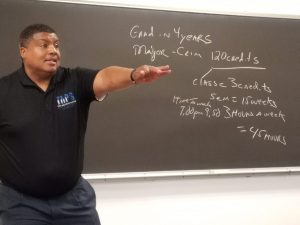 Teaching
---
With our strong affiliation with the University of Houston, TAPS believes there should be a sub-discipline of criminology focusing on youth and police relations. The plan is to expand the course to other universities across Texas, offer the minor at other institutions and perhaps even creating a Major in Youth and Police Studies.
University of Houston-Clear Lake is the only university to offer a Minor in Youth and Police Studies.
TAPS Clubs
---
TAPS Clubs are rooted in sociological literature and are conducted and implemented in specialized high school curriculum as a condensed version of TAPS Academy.
TAPS Clubs are designed to reduce social distance between police and teens while creating an understanding of each other in order to engage, de-escalate and ultimately, improve communities. A network of police and community partners foster one-on-one mentoring relationships with the teens which strengthens these relationships.
Topics are covered monthly and include conflict, drugs, bullying, gangs and violence as well as other timely issues.
Interested in starting your own TAPS Club? E-mail us at [email protected]!