REQUEST FOR PROPOSALS
Multistate Mentoring Initiative for Youth & Police
---
Funded by OJJDP FY 2021 Multistate Mentoring Programs Initiative, approximately $66,000 per site will be awarded over a two (2)-year commitment.
Teen And Police Service (TAPS) Academy places at-risk teens on equal footing with police, in order to exchange ideas and learn from each other. The program brings together the best of community policing along with lessons learned from Drug Abuse Resistance Education (D.A.R.E.), the Gang Resistance Education And Training (G.R.E.A.T.) Program, Citizen's Police Academy, Explorers and other school- and community-based initiatives to move to 21st Century Policing to actively engage one of the least-participatory groups in the community: at-risk teens.
We use the Texas Education Agency at-risk indicator code to determine "at-risk" students, which can be found here.
It is awe inspiring to see at-risk teens and police working together to understand why crime occurs and most importantly, what to do about it. Tapping into this resource creates a synergistic outcome that moves the discussion past "us" verses "them", so that police are seen as assets to the community and youth move from being at-risk to at-promise.
TAPS Center is research-based and operates with a goal to change the way teens think about police, as well as how police think about at-risk teens, and we are currently expanding into 9 new cities across the United States.
Please complete this form to be considered as a future home to TAPS Academy!
KEY DATES
The Timeline
---
February 10, 2022: RFP Posted
March 24, 2022, 10 A.M. -11 A.M. CST: Informational Zoom Meeting for all applicants
May 10, 2022: Application closes
June 1, 2022: Sites will be notified of application decisions
July - August 2022: Officer/Civilian Training
August 2022: Program Begins
Year One: August 2022 - July 2023
Year Two: August 2023 - July 2024
Questions?
---
Miss the informational session? Catch the rebroadcast below!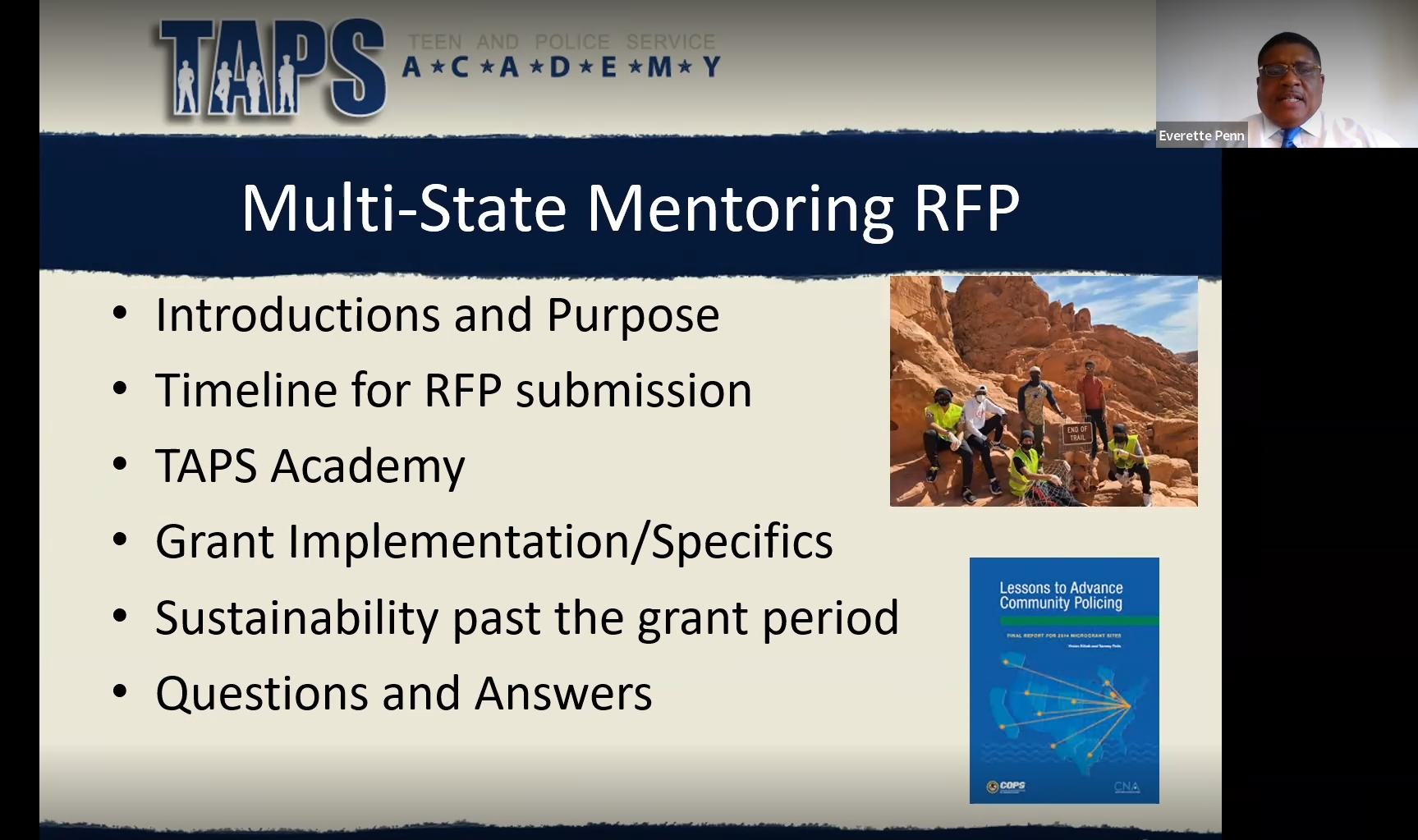 Submit your questions to EPenn@PennPals.net. As questions are submitted, they will be posted and answered here, so please be sure to check back periodically!